Infrared Sauna Blanket + FREE Heated Massage Gun Bundle
Take your recovery to the next level with our best selling Infrared Sauna Blanket + a FREE Heated Massage Gun valued at $219
GET $274 OF FREE VALUE WITH OUR
SAUNA BLANKET + MASSAGER BUNDLE
Recover aches & pains with deep penetrating infrared heat.

Calm your mind and experience that post-sauna high.
$699.00 + FREE MASSAGE GUN
GET OUR $219 HEATED MASSAGE GUN FOR FREE WITH YOUR BLANKET PURCHASE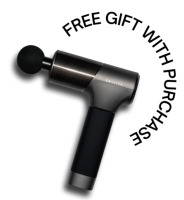 INFRARED SAUNA BLANKET
Type of Infrared: FAR infrared
Size of Blanket: 180cm long, max height recommended is 196cm
Maximum Weight Capacity: 150kg
Materials: PU leather exterior, waterproof inside & non-toxic fabrics
Electrical Certification: CE approved
MASSAGE GUN
Massager
17V Adapter
1400-3200RPM
Total weight: 2kg
Product weight: 1.85kg
1x infared sauna blanket
1x controller
1x sauna carry bag
Massager
6 attachments including 1 heat head
Universal charger
Carry case
All orders will ship early March.
How Do You Clean The Blanket?
Cleaning is as simple as cleaning your yoga mat. Lay the blanket out flat and wipe down with a towel to remove the sweat. We then recommend spraying with a natural cleaning spray.

How Does MiHIGH Differ From A Regular Infrared Sauna?
Your MiHIGH blanket uses the same heating technology as an infrared sauna, emitting far infrared wavelengths. The experience is much the same, but sauna while lying down instead of sitting up in a traditional box sauna.
How does the heated attachment work?
Our heated attachment has a built-in battery that instantly heats up the head to the perfect temperature to soothe muscles and aid recovery.

What is the battery life?
Up to 6 hours

How many heads does it have?
6 heads including a heated attachment.

What is the product warranty?
12 months.
Enjoy 6 Benefits from this Recovery Bundle
Infrared saunas have been shown to help produce natural antidepressants in our brain - dopamine, and serotonin. They also reduce cortisol. This paired with relaxed muscles means a relaxed and less stressful day
In order to increase circulation and blood flow during an infrared sauna, the body has to increase its metabolic rate. Increased metabolic rate means increased calories. One session can burn up to 600 calories.
The deep sweat of the infrared sauna is one of the best ways for clean skin because of how much dirt, debris & toxins are removed that aren't usually reached. Increased bloodflow to the body also means more oxygen & nutrients to the skin, which helps with collagen production & skin tightness over time.
Using an infrared sauna before bed can help to produce more melatonin, which is our sleep hormone. It also soothes aches & pains, stimulates feel good chemicals - all which leave you in a blissful state ready for sleep.
Because infrared heat penetrates so deep into the body, its able to detoxify far stronger than regular heat. So much so that it's estimated that a normal sweat is 95-97% water, whereas a sweat in an infrared sauna is only 80-85% water!
The Media Can't Get Enough of MiHigh
"MiHIGH uses light spectrum to create warmth, credited with boosting circulation and calorie burn. Who wouldn't want one?"
"The benefits of an infrared sauna are manyfold. MiHIGH's innovative Infrared Sauna Blanket brings the sauna
into your own home."
"You can now get the detoxifying, calorie burning and soothing health benefits of a sauna from the comfort of your own home."
Sauna Blanket vs. Traditional Sauna
"Compare the differences of an infrared sauna blanket vs. a traditional box infrared sauna.
Enjoy Our Free Massage Gun With This Ultimate Recovery Bundle
Your very own infrared sauna blanket. Get that sauna high whenever you like, at home or on the go.